5,200 km across European rivers
During his voyage, which begins in London in May 2011 and is due to arrive in Istanbul in October, Giacomo will cross at least 15 countries, including Italy where the boat will be launched.
He will sleep in the boat under a canvas tent made from the type of truck tarpaulins that are no longer used. The canvas material is called Olona (a river in Italy), a very strong and waterproof cotton.
The wood stove was made by a blacksmith friend from a beer mini-keg and will let Giacomo cook, keep warm and dry his clothes during the cold month of April in Northern Europe. He will also use it to bake bread, from flour given by country folk, farmers and millers he will meet along the way. He will also sometimes build – with care – small fires, on the shores of the rivers and the Black Sea.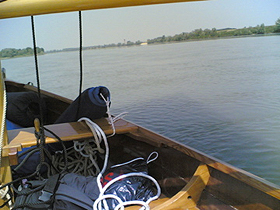 For food he will rely on fish and fruit as well as any other food that people along the way may offer him.
On board the boat will be some ropes, a knife, materials for repairing the sails and the wood, the stove, a sleeping bag, a cloth rubbish bin, two anchors, a mosquito net, a canvas hammock, some nautical maps (very few) and books, a tinder box, some spare clothes and a fisherman's jacket.
He doesn't need much.
In every country he will take only a dry leaf and collect some drops of water, which will he will keep in 15 small glass bottles made by a Murano glass master.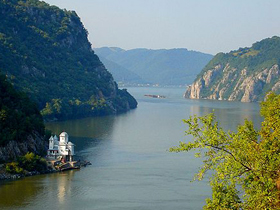 There will be about two hundred locks to pass through, the biggest in Serbia: that of the Iron Gates, which was once the most difficult point of navigation along the Danube. And then there will be tunnels, suspension bridges, where the boat will sail at a height of 30 metres above the ground, more than 400 bridges to sail under, 100 towns and cities, 4 capitals. And he will pass by 200 million people who live along Europe's two most important rivers.
The boat will be transported from Venice to London by a courier who has kindly offered to leave a space for it on board the first truck that will have enough free space, beside the goods being taken to London anyway. This will optimize transport and will not cause any additional environmental impact.
It will be a journey of both low and high technology. Giacomo will not use satellite navigation instruments but only the sun and the stars, and will carry out a predominantly simple navigation in coastal and protected waters. At the same time, thanks to some technology partners, Giacomo will be able to broadcast live from various locations he will stop at, to tell people what he has seen in the preceding kilometres.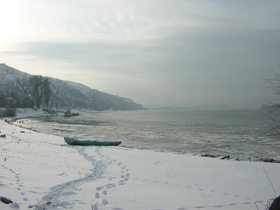 The electricity needed on board to charge the telephone necessary for talking on the radio will be supplied by a small solar panel. Then if anything is lacking en route, he will find it somewhere along the way. Know-how and care and attention will do the rest. Giacomo says: "When you have little, you make do with what you've got".
Giacomo will be all the more devoted to listening, observing and sharing information with those who know more than he does.
He will take dreams with him, and dream new ones. Nightmares will be left at home.