A few days ago I wrote: "I'm in Nürnberg. Nice city."
Same usual mayhem of every city, for those who come from the healthy and simple life on the river. Poverty and richness, comfort and uneasiness walk together. Happily, sometimes.
I expected worse: I heard many people speaking ill about Nürnberg. It's got a strong soul and a tiny bit of madness.
It was burned to the ground during WW2: You can feel that there was lots of suffering. Many industries, sweat, Dürer, beautiful bridges, St Lawrence's Church with its statue crowded gate, glass, hi-tech, led and a breast fountain (I know another one in Treviso, close to Venice!).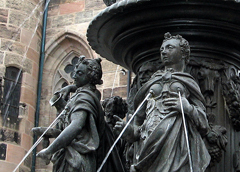 The best (driverless!!) metro and transport network that I've ever seen and used. I unintentionally found myself in the red light district, surrounded by women who're quite smart yet outrageous, not for their fault but because of a society that's sick of indecency. A Seduction ("se-ducere" from latin, "attracting to us") that we all use somehow, although with different styles and tones.
Est modus in rebus, there's a way to do everything. And manners are important.