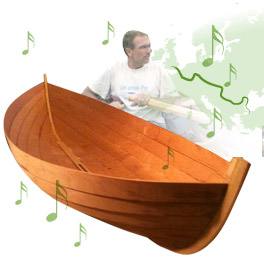 The following is a list of the events planned for the coming month:
March 15th – Introduction event at "Antiruggine" of Castelfranco Veneto (TV), 9 p.m. Ethical entry fee (three possible offers, 0-5-10 EUROs). Giacomo will talk about his previous journey, "Un altro Po" and present the boats for his new adventure. World-renowned cellist Mario Brunello will also participate.
March 17th – Cheering up to celebrate boat completion, in the Lago Showroom, Villa del Conte (PD)
March 18th/21st – International Boat Show of Venice, boat presentation (the Ness Yawl will be on show for all four days). Saturday 20th, at 4 p.m., official press conference.
March 28th (to be confirmed) – Show with the boat on water at the Giudecca Rowers Club in Venice.
April 8th (to be confirmed) – Giacomo and Ness Yawl's departure from Venice
April 15th (to be confirmed) – "Man on the River" official departure from London
For further information about the events, please contact