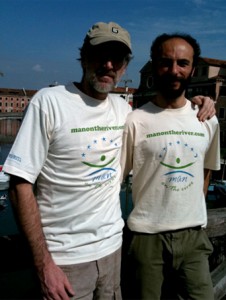 Our brand new t-shirts have been just delivered from the Male Fatte, a company that gives work to the inmates of the Venice jails. The t-shirts are hand-made of organic cotton, no chemical whitener, and printed with water based colours.
We are actually planning to sell them to finance the project: they are available in S, M , L, XL sizes, loose fitting (Giacomo usually wears XL but a L t-shirt fits perfectly).
Should you be interested in purchasing a t-shirt please write to and we'll let you know the price as soon as they will be available for selling.