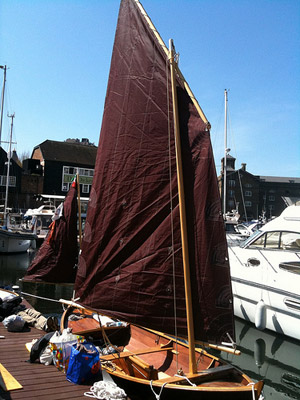 We have made it! We are in London, under Tower Bridge (which, seen from below is not as pretty as I'd hoped!).
Although we're small, we are managing among the waves of the Clippers, those big barges that zig zag across the Thames at breakneck speeds. A few hairy moments!
Jacopo is brilliant: he helps me as a skipper, which is enough!
The days since leaving Henley have been full of special moments and beautiful sights: the living river, loved, full of life and nature. Even here in London, among this mass of people and concrete and stone. I love London. But out there among nature, it's better.
The accompanying group is being wonderful: despite the difficulties and continuing changes, Nicola, Alessandro and Martina are doing their best to help us. Their support also comes with great spirits. I was especially concerned about the traffic and tides but both proved to be within our capability after all.
Clodia is super! A few minor outfitting jobs and we're ready to face the Channel.
By using the middle sail only, blown by a strong tail wind, and helped by a very strong stream, we reached a four knots speed. We even towed David, a friend that followed us for a good while with his centenary canoe.
We get stopped by many people along the way: They wish to take pictures and greet us.
Even at St Katharine Docks, a fabulous mooring below the London Bridge where we are surrounded by luxury boats, people are very friendly. They come to see Clodia and talk to us, both astonished and happy. We get thanked for what we are doing: It makes us feel good.
So much life in too short time, and very little rest! However we indulged in a memorable sleep in a king's house, that of David. He is a businessman with a big heart and a deep love for the river, going well beyond words. After rowing along with us, he offered his hospitality to the entire team, taking us in his Victorian Mansion! Thanks David, once again.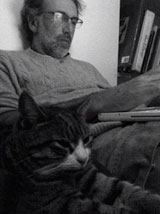 Now I'm in Ali's house, an old university fellow of mine. His generosity and hospitality has moved our hearts. Thanks for everything, forever, to Ali and his wife Anne, great friends.
Phyllis, Roland's sister, kindly opened his house to Massimo and Martina. A big thank you to Phyllis too, since I can't get to see her.
We are exhausted: writing these posts is getting harder every time. Our days are so full! I wish to keep going all night, but I'm nearly falling asleep.
Before that to happen, I want to thank the fishes, the sky, the air and the wind of this gentle and generous Country.
And thanks to the Thames' waters. A river beloved and to be loved.
Wargrave to Henley-on-Thames video
Bray to London video