We're still in Withstable: The weather is slowly getting better after four days of strong wind and heavy sea.
We tried to make good use of our time: Waiting may bring important gifts and help building relationships.
Not by chance, our boat was built inside the Lago Art Waiting Room, where Clodia shifted our point of view about many aspects of living.
The slowness of our travelling means waiting too, teaching how to be patient and how to listen. Less talking and more rest: That's what happens in Withstable. We wait and listen to others.
During the days at Johnny Green's place we have been charged with energy and entertained by amazing tales about The Clash: We discovered that they were closer to us than we thought, telling "you can do it too!" to the fans that were asking for autographs.
Johnny lives happy with his family, writing books about cycling.
His son Earl rides every day to Canterbury and back to teach English for foreigners. He's a nice, clean and generous person, as well as Ginette, Ruby and Polly.
A very enriching family: all my thanks!

In the last days we've been treated like kings by the Withstable Yacht Club, who gave us a warm room to protect from the freezing cold wind (reaching 48 knot speed!). It's a lot.
Whitstable has been our home for the last week: It seems a long but time just flew. Sometimes Johnny comes to visit, telling us new punk stories.
Then come along other friends that used to build boats for oyster fishing: They're strong old men, a little ruby in their face and cheerful, but their noses look sad.
They show us wonderful pictures of the Withstable bay, full with hundreds of Oysters Smacks. What a boat, and what a magnificent art of building sailboats.
Joseph Conrad used to say that there are two kinds of men: those of sea and those of land (suggesting that the latter are lowlife at the most).


Today we've been in Faversham, along with Bob, a friend brought to us through Phyllis Poltock and her friend Caroline. In Bob's shipyard we found lots of equipment for our boat that we couldn't afford to buy elsewere, including two life vests for 20 pounds only and the radar reflector.
The shipyard is extraordinary: it houses hundreds of wooden boats, built from 1800 onwards.
Thames Barges, Oysters Smacks, strong ships built with an iron that "did not know rust yet", as said by the great naval architect Carlo Sciarrelli.
It's a boat lover paradise!
Tomorrow I'll take my time to appreciate all of this: Jacopo will have to do his best to prevent me falling in love to some old yawl.
Faversham is a wonderful town, with many medieval and sixteen century houses. It was the first Roman city in England and it's crossed by the Creek, a small canal, that is dried for six hours a day. The harbour is small but very important: Sometimes Henry VIII used to dock his fleet in the Creek. Here, as in Withstable, we meet many people that seem to come out from a Dickens' tale.
Or maybe it's just me seeing Dickens everywhere…
A public square, at last! In this corner of the earth the world "public square" doesn't seem to exist. The streets have been built for fast walking through the chill wind.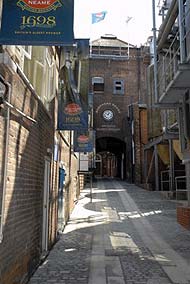 There are pubs though, and there is beer. In Faversham you can see the oldest British brewery, Sheperd Neame, built in 1698. The smell of beer, hop and roasted malt pervades all the town. At first it seems bizarre, reminding one of chemicals, then you get used to it realising it's a natural flavour.
We visited a pub run by a very interesting man: If you don't drink his beer (and what a beer!) in the right way and showing appreciation, he just kicks you out… They say that if you order expensive beers and don't behave, the next day he comes in front of your door (he seems to know where everyone lives…) leaving a note: "Don't dare come back in my pub, you devil!"
He might be slightly mad, but in his pub we feel at home and the price is fair: apparently even Prince Charles comes here to enjoy a beer every now and then, taking care over how he behaves of course…
Tomorrow a BBC team will come to listen to our plans. An old fishermen told one of their reporters the story of two crazy men who are travelling toward Instanbul to talk about water protection. That's the message that got through and the BBC found it interesting: It happens here. Fantastic, don't you think?
Right now we are rested and happy. To all of you asking about when we'll cross the Channel we have to answer: When the sea and the wind will say "yes".
We still have to wait, for the weather and to find a skipper willing to sail the boat bought for the film crew by Paolo Muran, the documentary producer. We'll soon mount an electric engine powered by SOLON solar panels, so we still need a bit of patience.
In our time schedule I planned that we could have waited up to the 15th of May before crossing the Channel: Hopefully we'll meet this timing. We have to apologise to Michele and Francesca who are waiting for us in Calais: We're sorry, on the sea it's a different story.
Tomorrow we'll go to Faversham. We've been Whitstable Yacht Club's guests for far too long and we're embarassed by their generosity.
See you soon. Viva il Kent!