197 km, 110 locks, 10 canal bridges, 6 tunnels. And so many people and sceneries… Spectacular! These are the numbers and the words of our last few days of travelling, but there's much more to tell. Naturally.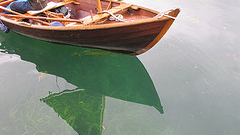 There are the wild landscapes of the Marne side-canal, postcard-worthy. Herd of cattle running away at our approach, shaking the earth under their feet. And water, of course. We drink it straight from the canal: It's potable and transparent down to 4 metres.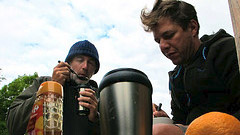 There are breakfasts in the midst of the steam rising from the canals, rain-wet nights, burnt days, opposite winds, handshakes from calloused hands, honest and warm hands. Kisses thrown in the air by a Turkish kid that keeps greeting us from the distance, so happy to read that word… Istanbul!
And the enraptured look of a little lady that stares at us from the bank of the canal.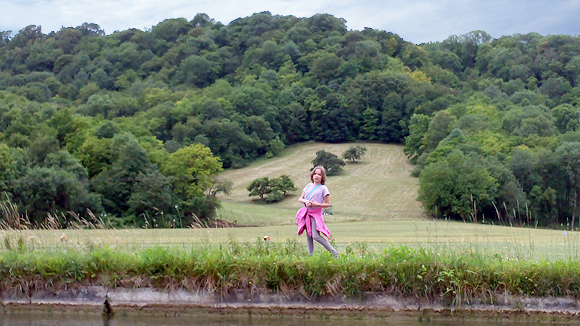 Then there are our hands, as hard and worn-out as an old buffalo leather slipper.
There's the old hearth of Nazim Hickmet, great Turkish poet of peace and freedom, and our own hearts, getting softer day by day thanks to the joy that we feel and get others to feel.
We cannot forget the kindness of so many people.
Such as Chantal in Treveray, that takes me to join the rest of the crew (I was left behind to update the website, and a long walk was in front of me), and the Mayor of Treveray who helps me to send an important e-mail to the italian radio;
And Jean, an "eclusier" (lock-keeper), a profession that's quickly disappearing due to the automations required by the cost-cuts. He invites us in his home, offering Champagne, along with his charming wife and his nice daughter that the next day makes us a gift: A postcard depicting this very same lock many years ago;
And yet again Sara and Bertrand in Toul that take us aboard their boat for breakfast, also making us sandwiches for the next day.
And a thousand other people that gave me, Bruno and Fine so many emotions. And help.
The landscape is now hilly: We've got up and down more than 110 times, passing 25 locks in just one day. The journey is intense, it's so difficult to pay justice to all the places in such a short report, however I'll try to put together a summary of what's happened in the past week.
First of all Berry-au-Bac, wonderful and perched: The French Renaissance. Here, we have a meeting in the headquarters of Vnf, where we gather kindness and information about the lock system that ever surprises us.

A century long, magnificent endeavour that, at a very high price in terms of money and effort, is still maintained. Thanks Vnf and thanks France for this gift.
Sailing and rowing on these waters and canals, passing these locks, bridges, tunnels always makes us think about about who worked and still works hard to keep it all functioning.
In Treveray, we moor under a cherry tree and Josephine jumps over Bruno's shoulders to pick a few of these tasty fruits (we're now officially gatherers, although still nomadic at heart!).
Then, we enter a bar where everybody listens carefully to our story. We recall with true pleasure the help received by the Mayor, by Madame Dal Zotto and by Chantal.
The next afternoon we literally sail on the water-lilies, getting past the 29th lock along the Marne-Rhine canal. This atmosphere reminds me of Claude Monet paintings. The water is just fantastic, so much that we drink it. We indulge in an unhortodox mooring, casting the anchor on the canal banks!
Along the canal, from the boat, we pick other cherries and strawberries: Delicious!
But we're waited by the second long tunnel of our journey, that of Mauvages, just slightly shorter than the Suterrain de Riqueval. This tunnel was built from the 1841 to the 1846: It's about 4.800 metres long, wet and dark, and equipped with the same system used in Riqueval, an electric towboat. But Captain Jack and his crew are already accustomed to this!
We stop for the night in Void, where Elvis from Vnf gives us a pen. The next morning we have breakfast over a roman bridge with a baguette cooked in a wood-fired oven. Then we get to Toul, fortified city, meeting Jean, Sara and Bertrand in a new, magnificent harbour. Here we visit the wonderful Cathedral: What a chance to show off my long-past architecture study with Bruno and Fine!
We get aboard once again heading to Nancy, sailing over the bridge-canal on the Meuse and rowing under another long tunnel: After 36 km we eventually enter in a real river, the Moselle.
A great Arcadia Felix scenery welcomes us, allowing for a nice sailing. The river gets much wider, such are the locks and the inevitable Peniche, over 100 metres long.
Here, the landscape is still wild , with little intensive agriculture and many grasslands. Given the water quality, the nature is nice and healthy, as confirmed by the presence of water-lilies, trouts, crabs, chars and basses.
On the way, the Moselle gets more cloudy: Industries and intensive agriculture seem to pollute the river and its bank a bit more. Ill-mannered people do the rest.
In Nancy, a city rich in history and culture, we immediately see a lot of bikes that can be used in a way that seems to work very well. It's called Velostan, based on 25 hubs scattered around the city centre: Here everyone can pick up and leave the bikes through a subscription system of variable duration.
The bikes are very nice looking and seem quite strong too.
France is still sweet. Despite the Kilometres already travelled, 800 so far, we're convinced to run too fast, leaving behind so many things and missing opportunities.
But we still learn so much, every day. A wonderful experience.
I feel sad thinking about the choices of some "big fishes" of the past that have taken away from Italy the pleasure of fluvial navigation, hailing the name of a regressive progress that has wasted the work of thousand of people.
Among those, there was a gentleman called Leonardo, coming from a tiny village in Tuscany, Vinci. By chance, he had dedicated great energies and efforts in the study of water and waterways. His water stair starting in Pavia has been left in a totally neglected condition.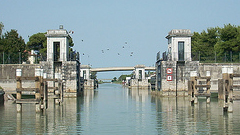 I'm also sorry because at every lock passed, we're at 157 so far, I can see the doors that Leonardo invented five centuries ago, and are so called "vincian". They're still  working beautifully all around the world.
That's life. Be water! Giacomo