This wonderful picture, taken by Holger, shows our arrival in Ochsenfurt, and is a good postcard from lovely Franconia.
However, let's get back to our stay in Würzburg: The gate to the Orient, to me. In 1751 Giambattista Tiepolo (a Venetian by adoption just like me) arrived here by boat and carriage, to paint what is probably his most beautiful "fresco" for the local prince-bishop.
The Residenz is a really impressive piece of artwork both by size and craftsmanship.
Completed in 1744, it was designed by the great Balthasar Neumann (military by need and architect, as well as erudite and intelligent man) who worked very well indeed, here.
Johannes Engels, leader of the cultural office for the City of Würzburg, gives us some of his precious time to be our guide through the huge, decorated rooms belonged to the "bon viveur" bishop (whose name was Johann Philipp Franz von Schönborn, as baroque as his palace!). The paintings by Giambattista Tiepolo and his son Domenico are quite stunning, pay a visit if you're around.
Later on, we move to the old graving dock, transformed in a wonderful stage over the water to celebrate the second edition of the music festival.
We highly enjoy a fusion of harmonies: Pop, jazz, electronic and symphonic.
Life in Würzburg was frantic: Interviews, video reports (such as that of Sat1 where, natürlich, the soundtrack is "'O sole mio"!), work, visits, and friends, so many of them.
Joachim, owner of the marina, grants us a fantastic free stay in his port just under the Lowenbrucke, the Lion's Bridge, not to mention a nice dinner in the marina's restaurant.
It's time for Enrico to keep going with his riding trip to Ukraine (from Glasgow), so he leaves the crew. Unfortunately I didn't have the chance to involve him much, due to the harsh conditions. Thanks to have been with us, Enrico: We all hope to spend more time with you soon.
Würzburg is wonderful, don't miss this fairy-tale castle in the vineyards. And it's real. However the whole Franconia (divided in OberFranken, UnterFranken and MittelFranken), part of Bavaria, is a masterpiece where man and history have worked together in the best possible way.
In Sommerhausen, a lovely medieval village nestled on the Main banks and surrounded by endless vineyards, we meet Peter, a goldsmith artist. He's friend of Bea, our best and most faithful follower, who lives in Montalto in Liguria with her husband Dieter: I've been their guest last winter. A nice person, introducing  me to other nice people.
We also get to know Herr Steinmann, from winemaker family since 1913, who shows us a selection of white wines so extensive that the late Veronelli could have wept tears of joy. Müller-Thurgau, Sylvaner, and a Secco (from Prosecco, a denomination that can't be used here) living me speechless but with so much poetry in my mouth.
We get down a "cave" (cellar in French) that seems to me more of a "caveau" (of a bank): 12.000 collection bottles, many of them in the typical flask shape.
Then we climb over the hills, stumbling upon a "ciabot" (that's how the little houses in the vineyards are called in Piedmont). Here we meet two lively elder couple, enjoying a breathtaking landscape over the Main valley. They had read about our journey on the local newspaper and are now facing "Man on the River" in flesh and blood!
The lady, the next morning, will wait for me along the banks to say goodbye, following us for a couple of kilometers on her bike.
Nice people here, very healthy! They're proud of their land and aware of the importance to protect it. The riding paths are well signaled and marked on the tourist guides, and you can find plenty of B&B, Biergarten and restaurants serving quality food at a fair price. An excellent lifestyle. Intellegenti pauca. The set off from Würzburg, after four busy days, is sweet. A police boat comes close and slows down: Werner, a good man, offers to pull me for about 6 km.
My crew (first of all Holger, who has rejoined us) was quite worried, thinking about some sort of trouble: I calm them down and fly fast for about 18 km by rowing and sailing.
A real dream for a Piedmontese (Viking-Sicilian half-blooded, Venetian by adoption), and I wasn't even drunk! Sailing across the vineyards, I can't believe it!
In my homeland, you may only do that after a couple of good bottles of red wine…
So, between real life and dreams, wind and oars, clouds and sun, greetings by the lady from Sommerhausen and by the many riders who already know us thanks to the newspapers and the television reports, we get to Ochsenfurt, that's another pearl on the Main.
We're waited by Irene, Peter's sister, a charming woman, rich in culture and very curious. She turned two ruins in evocative mansions, allowing her passion to shape a B&B that transfers emotion and beauty. I'm really glad to place a bit of advertising for it: Kolpingstrasse 18/20, Ochsenfurt – info@rezzo.info
In the local marina a big Viking man, Matthias, welcomes us. When we tell him that we come from London and we're going to Istanbul he quietly says: "Gut, the beer dispenser is on the back" such as we were coming from right behind the corner!
This is Matthias! But he's also a big man with a big heart who will cover us of gifts at our departure: A tray from Jagermeister with an anti-sliding surface and a large beer mug marked with the 50th anniversary of the Ochsenfurt sailing club. Thanks Matthias.
Ochsenfurt is a special place: We're not used to so much beauty, yet. All around town, you can see cows (made by an artist): Howewer Ochsenfurt doesn't have any real cow, but a nice and strong architecture.
In the evening we're guest of Irene, having a superb meal. We also discover an old school where a group of friends, who many years ago walked the "Romea way" (passing from here and Chioggia too) all the way to Rome, is organizing a surprise to some Italian mates coming to Ochsenfurt.
They're practicing hard, with Teutonic decision, to sing "Romagna Mia" (a famous traditional song) and ask us for an opinion soon after dinner. They'll make it!! And quite well: Paolo videotapes the memorable moment, getting moved to such a point that he declares himself Romagnolo (just him, a pure Emiliano from Bologna!). However we can forgive him for this lie, considering the emotion!
The next morning we receive a visit from the mayor, Herr Rainer Friedrich, who freely talks about Ochsenfurt, its citizens and their problems, like a good father.
The bridge, for instance, is still to be repaired after a few downfalls.
On the side of the bridge, however, there's a ferry operated by a private business. It's called NIXE and comes from Rotterdam. A group of friends, given the delays in completing the bridge, decided to buy this ferry and manage the service. We meet Gerhard Meissner, who took part to the journey from Rotterdam to Ochsenfurt.
This is a wonderful idea, allowing so many people and riders to cross the river. Charon of bike-minded souls. As you already know, I like ferries. I don't like bridges.
On the same day, full of gifts from the mayor, from Matthias and from Gerhard (giving us a book about his adventire along the Rhine and the main aboard NIXE), we set off. The current is not as powerful as before but still strong. I rely on my oars, just like wings, to travel upstream these mighty waters. I'm rowing on my own, now: Tired and wet by the odd occasional shower, I stop in Marktbreit with Paolo, Massimo and Holger.
We look around for a place to eat, since our meals are usually just a single one. The village is lovely, as usual: Walls surrounded by water, nice architecture and austere Renaissance, with a hint of Italy. Pizzerias and Eis Cafes, run by Italians too, are never missing but today they're closed. In the distance, you may still see the ramparts protecting the harbour, but now they just overlook a parking area: Cars have become more important.
I forgot to tell you: two kind gentlemen allowed us to stay for free in the local marina. Then, we have a lucky encounter: A lady, walking by with her husband, comes to talk. She's a volunteer working on NIXE and gives us a wonderful suggestion, about the story of the Marktsteft soldiers fighting in the American Civil War. Thanks.
We climb along a lovely street, to find a typical restaurant managed by a film director. He's produced a movie about a very moving and sad story. "Solo", that's his name, offers to all of us a delicious meal, and begins to tell.
In Marktsteft, a few miles away from Marktbreit, there's an old, charming port. With a heartbreaking story. A group of poor peasants, about 400 of them, were chosen as soldiers to be sent in the American Civil War, to support the Northern Armies. Just eight of them made their comeback in Marktsteft. The film that Solo gives me is a parody of this tragedy.
We greet Solo, so kind to us, living the harbour where we can still spot a mooring line hanging under the flags. Silence and green, beauty and sadness. We're touched in the heart. After only six kilometres we're bound to meet another pearl of Franconia: Kitzingen.
We moor in the local marina, guests of Matthias (another one), very kind, former manager of all the city gardens as well as sailor. We arranged an interview with the director of the exhibition Natur in Kitzingen, Frau Christina Zauner.
The exhibition, requiring a 12 years long preparation, displays everything that you can do in a garden: new (and old) cultivation techniques such as synergic, biodynamic, permaculture and so on. Quite interesting indeed, it's open up to August 21st, 2011.
Let's get move, we have to meet a fisherman, one of those handing down their art and secrets to their children, from the middle age. They manage fishing and licenses in the area, and everything that happens on the river: It seems to work.
Bernhard Ziegler, a funny man in his fifties, extremely fit, is a river of words. He calls himself Bernardo and invites us to his home, where he explains the many problems of the Main: rocks, fast current, big barges causing great damages, electric plants and the locks that have transformed the river in a series of lakes (or Water Bodies, as they call them at ECRR) where the interchange of life isn't possible anymore.
The salmons still exist, but they're put in and very little in number. The eels are disappearing, and so it happens to many other species. The Main seemed to me a very lively river, but Bernardo opens my eyes. He knows, by many generations, how the river works.
We follow him aboard and he takes us to visit a nice "lanca", a lake where fishes can safely reproduce. In the river current the fry have no chance to survive. Sad. However there are some positive aspects: Water is always clean, nearly drinkable and people become aware of the damages, trying to fix them. Nature is strong. If you don't hurt it, it works relentlessly.
Thanks Bernardo. See you soon along a Main as lively as it once was, when your ancestors used to fish huge, 200 kilos salmons and sturgeons. They fished and protected, aware of the limits.
The following day we welcome Maren: She's a marine biologist, with deep, charming blue eyes. It rains: Not bad for a reunion with Fine after seven years. She comes aboard Clodia telling me about her job in Sokotra, an island in Yemen, where she's involved in a research programme about corals. Maren has to go very soon: What a shame.
Just before a lock, close a ferry, I hear a shout: "Giacomo Giacomo". I don't see very well, so I try to sail near and guess who's calling me… A couple of old friends, met in Kos on a winter lived aboard. They're Joanna and Marcel, from Köln, who are sailing around the Mediterrenean aboard Chulugi, their wonderful Dutch boat.
Great celebrations! We arrange a meeting in Volkach for a drink.
In the meantime, with Massimo rowing with me, we get to the channel cutting through a meander of the Main, saving about 10 km of navigation. Reluctantly, we decide to take it, because it rains and we're tired and wet. To follow the rules, we should get towed to get through, but I'm not fully convinced and Massimo is a real Viking.
So, in 45 minutes we row all the way to Volkach, about six kilometers, getting there just before dark. As Moitessier, I hoist my Storm lamp on the main mast to be visible, but there's nobody around.
I drop the anchor. Funnily enough, the camping where we moor is called Ankorplatz. We have a quite enjoyable evening, along with Marcel, Joanna and a few mugs of Weizen. Tired but happy.
The morning after we pay a visit to Volkach: Beauty and perfection, but not gushy.
The church of St. Mary im Weingarten makes me smile. Mary in the vineyard (for real!). A gorgeous sculpture by Tilman Riemenschneider, master woodcarver, and nice paintings.
Peace in this pilgrim's church: Jacobweb, as they call the pilgrim's trails here. Do you remember the Jacob in Speier? Well, me too am a Jacob, by name and fact!
Fine spots a statue of Saint Bruno and lights a candle.
It's time to get back to Clodia where Joanna and Marcel are waiting with croissants, tasty bread and wine jam. We try to row, Marcel is good at it, then we raise the sails and return to the harbour.
While I make a coffee on Lena's stove, look who's popping out? Wolfgang, an old friend of mine from Bamberg, who lives in London aboard Mouette, an old and charming boat that was once operating on the lake of  Neuchatel.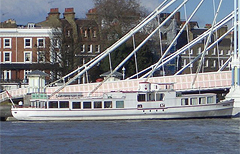 Wolfgang, as mad as a hatter, cruised the boat all the way to London, in a "Fitzcarraldo" fashion. Mouette is now docked next to the Albert Bridge, Chelsea. What a sight: A shame that I couldn't restart the journey from there this year, but Faversham was more urgent. Unfortunately it looks like things aren't going so well there. Come on, guys! Keep going!
Wolfgang has come here with his friend Bernhard, who kindly proposed to be our guide in Bamberg. I'm so happy of this surprise: They have chased us along the Main, asking for information to the Schleusemeister (lock keeper).
Ute and Nicole, in a wonderful café, give me not just special cake but also gentleness and beauty.
Douce (süß) Deutchland too! See you soon!
We set sails once again. A density of seven lives in a day. The distance from Volkach to Schweinfurt is 27 km and I know it won't be easy. One oar strokes after another, we pass through enchanted sceneries.
I see a marvelous little beach, deciding to stop there: I clean Clodia's keel, then I stand still in admiration.
I also pick up the sweetest apples straight from the boat, along the Main. The water is clear, I feel like a pioneer.
Then, vineyards, ferries and not bridges, Dutch rowers, and other amenities. Dream. And oar. I'm getting tired, it's so hot. A nuclear plant, a pink factory and an endless distance to cover.
In a little lock, reserved to small boats, I forget that there's a bridge over Clodia. While the water rises, I hear the mast touching the bottom of the bridge: Just bizarre creackings, but it all seems to be fine. Then I watch up and I see a strange visual effect, the mast is unusually bent. No, dangerously bent!
Understanding the threat, I immediately release the red button used to flow the water in, but I know that the mast will break. I prepare for the worst, already thinking about how to fix the damage. But… no, thankfully the locking points get loose and, "creaaak", only the tip of the mast breaks up.
A miracle, it was flexed as a fishing rod, incredible! Thanks to Roland, Nicolò and Diana who built it!! Once again a little distraction could have caused a huge damage. Be careful, Giacomo. Always!
We keep going, low-spirited (especially me). In a couple of hours, after a short pause to verify the extent of the damage, we eventually reach Schweinfurt, welcomed by a strong headwind and a nasty heat. Once passed the lock, the instruction given are to look for the pizzeria along the main and moor there.
Domenico Santoro, from Celie Messapica in Salento, is waiting to give us a roof, delicious food and his great generosity. If he didn't exist, we'd have to invent him! He worked really hard to get where he is, bus he now owns one of the best restaurants in town, in an enviable position overlooking the Main. It won't be Salento's sea, but it's quite nice indeed.
We couldn't ask for anything better. If you come around, pay a visit to this "Pizzeria sul Meno". Domenico's wife, Karoline, is a strong and sweet woman, always present, You understand, and Domenico admits it, that this restaurant couldn't exist without her.
Ernst and Ursula pay us a visit. Ernst is an interesting artist: We'll interview him the next day.
He works on cross-culture, on the denial of the concept of borders, on irony. I agree with many of the things he does and says. Mao and Do-Li (Dolly, the first clone sheep) is a masterpiece of irony.
We'll be his guests in a studio with a New York style terrace, where he'll tell us a crazy story happened when he was young.
He transported 700 pregnant cows from Hamburg to Istanbul. And no one of them got lost. Four weeks of adventure. A good subject for a movie! What a character!
Tomorrow we'll leave to Bamberg. We're at 333 km along the Main on the 383 to be covered.
Thanks Bea to have given me the chance to meet these friends. You're our Montalto angel.
Giacomo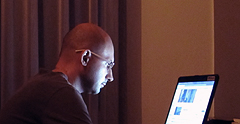 P.S. : A big hug to Emanuele who always edits, shapes and translate (I write in Italian) my reports packed with words, and to all the other guys from Eden Exit, taking good care of this website!!