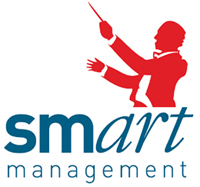 smart management
Processi di cambiamento nella cultura manageriale
smart management è il marchio con cui opera ZERO618 srl, società milanese di consulenza strategica e organizzativa.
smart management interviene per promuovere, attivare e accompagnare processi di cambiamento della cultura manageriale e organizzativa.
Per farlo lavora sull'ESSERE delle organizzazioni proponendo attraverso workshop, seminari, corsi di formazione, eventi di edutainment, analisi e ricerca, libri e pubblicazioni, modelli di gestione della complessità universali come la musica, lo sport, l'arte, con una chiave di lettura antropologica semplice e accessibile.
smart management opera per una nuova cultura di impresa, per questo sostiene the Man on the River, un'impresa culturale per una nuova visione del mondo.